Flat Belt and Sheave Systems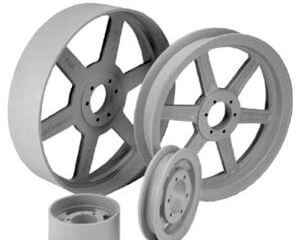 Flat belts & sheaves are a "Different Breed of Cat" and require detailed engineering instructions.
Applications for this class of device includes standard conveyor belt applications and the Head Pulleys for them. When considering this type of application, remember that the conveyor belting is also a very specific material. Take for instance Coal or Aggregate versus Vegetables and Fruit. These products require different material as the conveying medium.
The sheaves are not a lot different. Many Head Pulleys are rubber coated and others, still, are simply flat pulleys made of steel. This, too, depends on the conveyor belt material that is being used.
The sheaves can be "Bored to Fit" or "Tapered Bushing" type attachment to the mounting shaft. Also, special applications may require that the pulley be "Split" due to some inability to remove the mounting shaft to mount the pulley.
Finally, a flat pulley may be designed and used simply as a "Fly-Wheel".
With all these possibilities, maybe you can see why we say that the Flat Belt and Pulley applications are a "Different Breed of Cat". Call A.R.& E. for application assistance on your next flat belt project.